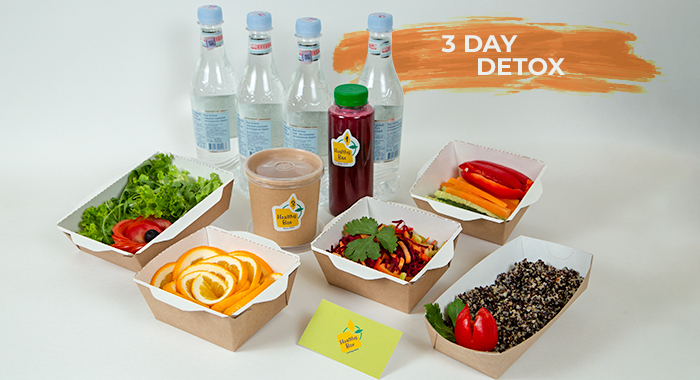 DETOX 3 DAYS
Օrganism cleansing Detox 3 days program excludes all animal products (fats, proteins), only raw products are used. This program is for those who are not yet ready to drink only juices and smoothies, who are just getting into the process of healthy eating and detoxing. It is recommended before the start and after finishing the program to take weight loss 850 kcals Standard or 850 kcals Express programs.
If you order this program, you will:
- lose excess weight (up to 3 kg) 
- increase immunity
- improve the functioning of the gastrointestinal tract
- get rid of toxins and slags
- improve complexion
MENU SAMPLE
Breakfast- smoothie
Break- fruit dessert
Lunch- soup, salad and juice
Break- smoothie or juice
Dinner - salad
If you join this program, it is very important that you strictly follow our meal plan. Please do not use any other food or drink (you may still drink water, tea and coffee without milk or sugar) in order to achieve maximum results.
Healthy Box organizes free delivery in the city of Yerevan in accordance with the schedule established by the company, with the exception of some administrative units of the city and/or addresses. More detailed information can be obtained when placing an order.